Skip to main content
Skip to navigation
Launching AI-driven Fraud Detection
Adverse Media Screening
Enhance risk management with a focused adverse media screening solution
Improve analyst workload efficiency by remediating hits in under 5 minutes
Create custom risk profiles based on your risk appetite
Manage reputational risk by identifying incoming threats proactively
Request Free Demo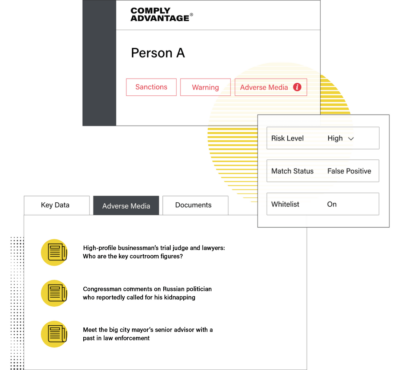 Transform your adverse media screening program with ComplyAdvantage
Deliver a seamless customer experience by reducing onboarding times by up to 80 percent – from 12 days to 2.
Use rich, dynamic information from millions of data points distilled into live structured profiles to quickly determine who you're doing business with.
Reduce hit rates by up to 80 percent by focusing on the alerts that matter
Streamline analyst workflows by automating labor-intensive processes at scale.
Create new custom risk profiles quickly and efficiently.
Use the search results to inform continuous KYC and confidently meet enhanced due diligence obligations.
Benefit from automatic updates with no manual rescreening required.
Tailor your screening program to your risk appetite and prioritize alerts effectively.
Only flag risks that are relevant to your business and allowlist low-risk clients.
Select the specific adverse media categories you want to screen against from the latest FATF and EU MLD recommendations
Integrate data feeds, case management systems, and CRMs to match your workflow via our industry-leading API integration.
Built for security and scale.
Benefit from a hassle-free integration with a single search function.
ComplyAdvantage's solutions help us sleep better at night, knowing that we've got the right systems and controls in place and that they are effective.
What took one of our associates one full week to do can now be done in a matter of hours. With ComplyAdvantage, Paxos saw an 80% improvement in efficiency.
Santander UK automates adverse media screening and reduces customer onboarding time by 50%.
Screen against structured entity and individual profiles, not endless articles.
Select specific source lists curated by financial crime experts.
Use a contextual machine learning approach to filter out non-adverse media hits.
Benefit from an AML/CFT taxonomy that's aligned with regulatory guidance.
Discover our related solutions
Sanctions screening
Protect your organization with a robust watchlists and sanctions screening tool that offers real-time insights into your clients' risk statuses.
Screen for Sanctions
Know Your Business
Understand the risk of companies, associated directors and shareholders via a single API.
Discover our KYB Solutions
Easily integrate our adverse media tool into your existing systems and send data in your preferred format via our industry-leading REST API. We combine our API with a set of webhooks, which allows two-way data transfer between our application and your back office systems so you can manage your workflow, all from one window.
Our adverse media tool currently screens against 11k+ verified national, regional, and local media sources across 200+ countries.
Keyword filtering adverse media tools only capture and analyze data from a select number of media sources, which don't necessarily provide the whole picture. AI-driven solutions fill these gaps by automatically assigning negative news information to profiles matching real-world entities. In addition to minimizing human error and false positives, AI-driven screening can reduce alert remediation time and increase operational efficiency.
Get started with ComplyAdvantage today
See how 1000+ leading companies are screening against the world's only real-time risk database of individuals and legal entities.
Request Demo