Skip to main content
Skip to navigation
Launching AI-driven Fraud Detection
Banks
Accelerate onboarding while reducing risk
Today's customers expect rapid onboarding. Whether you are a digital bank, retail bank, or enterprise bank, you will have felt the pressure. It's hard to deliver a great customer experience, though, if your screening process flags a lot of false positives.
At the same time, banks must be confident they are identifying all relevant risks, including those that are not in sanctions and watchlists. Manual searches and keyword-based approaches are slow and cannot provide the full picture.
We have the answer. Our AI-driven solutions enable suspicious entities and activities to be identified in real time. You can onboard faster, cut your costs, and reduce your risk exposure.
Why ComplyAdvantage?
Streamline customer onboarding
Significantly reduce false positives, while improving your alert quality. We have the only global dynamic database of sanctions and watchlists.
Automate ongoing monitoring
Be the first to know about critical changes in risk status. We deliver sanction updates up to seven hours ahead of the official source email.
Integrate seamlessly
Our webhooks enable straight-through processing and the ability to freeze transactions instantaneously. Our two-way RESTful API enables you to get alerts as soon as suspicious transactions are detected.
Highest Level of Security and Risk Mitigation
Industry-leading API integration and uptime. We have ISO 27001 certification across all our systems and locations.
Automate at scale
Adopt different search profiles for high and low-risk customers. Whitelist customers that don't pose a risk to reduce false positives and speed up transactions.
Tailor Screening to Your Risk-based Approach
Use the API to configure thresholds, search strings, or any other relevant information. Tailor the data sources used for your searches.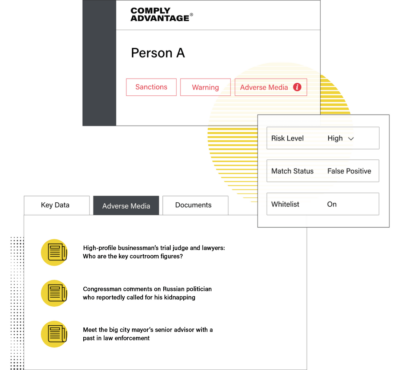 Screen Against Adverse Media
Identify adverse media across millions of articles, using artificial intelligence. All profiles are accurately labelled with FATF-aligned categorization to reduce false positives.
See how we have helped other banks
Santander Cut Onboarding Time From 12 Days to 2 Days
ComplyAdvantage can respond faster, have broader adverse media searches and match more accurately, guaranteeing that we are not putting the bank under financial crime risk," said Jonathan Holman, Head of Digital Transformation, Santander Corporate and Commercial Banking.
OakNorth Bank Cut Its False Positives
"Since we launched [with ComplyAdvantage], all new applicants only have a 2.3% hit rate and the overall portfolio has a 4.1% hit rate. The team can spend time less time reviewing false positives and more time on value-add activities," said Thomas Szymanski, Senior Operations Manager (Deposits), OakNorth Bank.
Latest news and press releases